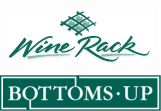 This month we feature the Viogniers of Bottoms Up / Wine Rack which is part of the First Quench group that also includes Thresher and Victoria Wine. They describe themselves as 'a wine specialist with a strong and varied range of quality wines for the consumer and enthusiast alike….. an unintimidating environment with advice at hand if required.'
Their specialist areas are California, Chile and South Africa. They have a membership scheme that provides members with a case discount of 15%.

The selection includes two Californian, two Pays d'Ocs and an Argentinean, which all retail within a fairly narrow price range from £5 to £10. The favourite at our tasting was Cazal Viel, which had a taste that outmatched its price. This was purchased as a parcel lot in November 2001 and has now made their range. We felt there were gaps in the range – surprisingly no Australian and nothing more adventurous from either California or the Northern Rhône.

Bottoms Up / Wine Rack's own comment about their range is that they are always looking for wines that are different and that take account of the market trends. Future Viogniers will probably be through further quality parcel purchases.

Bonterra Mendocino County Viognier 2000, Mendocino & Lake, California
A classic Californian Viognier with a green hue to the light yellow colour. A sweet oaky smell, creamy and delicate. The taste is strongly fruity and remains in the mouth for some time. This is an organic wine.

Fetzer Echo Ridge 2000, North Coast, California
Pale yellow with the refreshing smell of sea breezes. Delicate with a hint of lemon and apricots. The taste is full and fruity with plenty of apricots. The fruitiness stays in the mouth together with a slight bitter aftertaste. From the same stable as the Bonterra.

Cazal Viel Grand Reserve 2000, Vin de Pays D'Oc, France
Light lemon with a green tinge. The nose included a rubber or burnt smell … some likened it to mouldy cheese. Oak was also apparent. The taste was described as pungent with a hint of almonds or nutmeg. It had a good length. A Pays d'Oc wine. £6.99 a bottle

Domaine de Peyrat 1999, Vin de Pays D'Oc, France
A medium bright, yellow colour and aromas of pineapple and over ripe kiwi fruit gave this wine quite a distinct smell. In the mouth there was some initial acidity but with reasonable balance. Memories of summer flowers. Definite apricots in the aftertaste. From the Pays d'Oc. £6.99 a bottle

Santa Julia 2001, Mendoza, Argentina
Pale yellow Argentinean Viognier. Sharp acidic smell initially becoming sweeter with honey suckle and a little vanilla. The citrus carries through in the taste but there is plenty of sweetness. Some pears and apricots. The finish is short. £5.49 a bottle.

---
For further details of Bottoms Up / Wine Rack's Viogniers, please click here

For previous 'Featured Wines', please click here