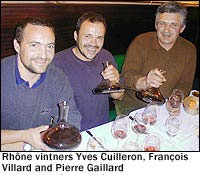 Within the Rhône Valley, Viognier is the defining grape variety of the white wines Condrieu and Château Grillet. The vine was once common as a crop of the farmlands south of Lyon and has been grown on the infertile terraces of the Northern Rhône for centuries. Production in more recent times, however, has been in decline. This is mainly due to Viognier's low productivity and, consequently, it's lack of favour (definitely not flavour!). The late eighties and early nineties did see a turn around in Viognier's fortune and production has spread to the Southern Rhône and further!!

The Northern Rhône makes some of the finest wines in the world and, by association, is also home to some of the finest winemakers. Amongst these elite, three have come together to launch a new venture under the name Les Vins de Viennes. 'Les Vins de Vienne' was the name given to the wines of the Seyssuel region in the Roman times, which were reportedly of some repute. The three friends, Yves Cuilleron, Pierre Gaillard and François Villard, who are stars in Condrieu and Côte-Rôtie in their own right, have created a négociant firm and a domaine to make an estate bottled wine. For the domaine, the team have resurrected a long-neglected vineyard area on the steep hills in the commune of Seyssuel, a little bit further north of the town of Vienne, in the far northern reaches of the Rhône Valley. The wine produced is Sotanum, the name of one of the three cru's around the area of Vienne in AD71, and is pure Syrah.

Being a website devoted to Viognier however we shall move over to the négociants business of the three men and in particular Condrieu. For the négociants business, the aim is to procure the best grapes from growers throughout the Rhône in single vineyard, old vine parcels. Two wines have been produced from the Condrieu appellation.
1999 Condrieu La Chambée has been vinified in French oak casks with a further nine months ageing on its lees. It is a stunning wine with a subtle nose and complex palate – dry with layers of spice, peachy fruit, a little dried apricots, a touch of honey and amazing length.
1999 Condrieu Cépées Caties is one of a few Vendage Tardives wines in production from the Condrieu appellation. It is, surprisingly enough, also a stunning wine with elegance and finesse, great balancing acidity to the sweetness and a long, dryish finish.

The wines of Les Vins de Vienne are available through Corks of Cotham in Bristol. The 1999 Condrieu La Chambée is £24.99. The 1999 Condrieu Cépées Caties is £29.99 for 50cl.

---
For further details of Les Vins de Vienne – Yves Cuilleron, Pierre Gaillard & François Villard, please click here

For previous 'Featured Wines', please click here