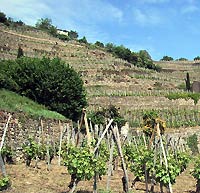 The most recent Viognier wine tasting focused on the close comparison of two mighty Condrieu and a rare slurping of an Australian late harvest Viognier. The New Year demanding something special so we decided to attack our horde of Condrieu, how long do they really last.

We compared Domaine du Monteillet Condrieu 1998 and an Yves Cuilleron Les Chaillets Condrieu 2000

The six years old Monteillet was pale straw, lighted than the Cuilleron, and had a slight greeny tinge. The smell created great expectations "Aaaaahhh Condrieu!" Plenty of honey there and some oak but with a 'thinner' smell than the Cuilleron

The taste was quite disappointing with little real flavour the initial promise was not realised. It was very dry with little fruit and a slight bitter after taste. There was an oily, slightly viscous texture.

Having said all that it is still drinkable with or without food. It just seems past its best.

Four years on the younger Cuilleron was pale gold and very clear. It had a powerful smell of honey but with an edge that suggested depth. The smell was not cloyey but fresh, some said restrained and integrated.

Wow, now there was fruit and masses of it apricots of course, well balanced and in fact a mirror of the smell. This is a wine still with great depth and complexity and again with that oily/viscous sensation in the mouth.

To those who describe Condrieu as 'big and busty' they've really got it with this wine a real handful and plenty of length.

Domaine du Monteillet is less available in this country than the numerous Yves Cuilleron Condrieu

We had to twist an arm or three to get hold of the plus…..third wine in our tasting, Yalumba Botrytis Noble Pick 2001 which is to date not available in the UK

This had a light clear bright straw colour not as intense as some late harvest wines. When you put the glass to the nose you were overcome with strong marmalade, tangerine smells mixed with vanilla.

Both vanilla and marmalade also came through in the taste, cooked fruit as some remarked. A slight bitterness lingered. This wine did not have huge staying power but we enjoyed the experience and feel that as this late harvest is developed it will become a real champion to rival the classic late harvest Condrieu and we felt would drink well with a French country cheese.

---
For previous 'Featured Wines', please click here